In recent years, popular culture has embraced the idea of the TV date night: the idea that binge watching a new show together is the height of romance. We wanted to see if Australian singles agreed. Our newest survey asked 580 Aussie aged 18-59 for their thoughts on how television can influence attraction.
As it turns out, Aussies think your choice in TV says a lot about you: not only do 60% think that putting your favourite shows in your online profile is a great way to meet a like-minded date, 67% feel that being a fan of the right shows can actually make you more interesting!
Is it you or is it me? Actually, it's Neighbours!
So what are these 'right' shows? Opinions are divided but, ultimately, the show that grants the most kudos is The Big Bang Theory. Indeed, 30% of singles agree that being interested in The Big Bang can make you seem more attractive. Second place goes to Game of Thrones, with 23% thinking that fans of that series are automatically more intriguing; while Criminal Minds takes out third place with 22%.
Of course, there is a flip side to this coin: the survey also revealed that there are TV shows that are seen as off-putting. Leading the pack (by a slight margin) is Neighbours: 54% of Aussie singles think that being a fan of all things Ramsay Street makes you less attractive. Other TV turn-offs include loving Home and Away (a no-no for 50% of singles), and being mad for Doctor Who (a repellant for 19%).
READ MORE: Our recent 'First Date Deal-breakers' survey revealed some more unusual Aussie turn-offs. Rate them here!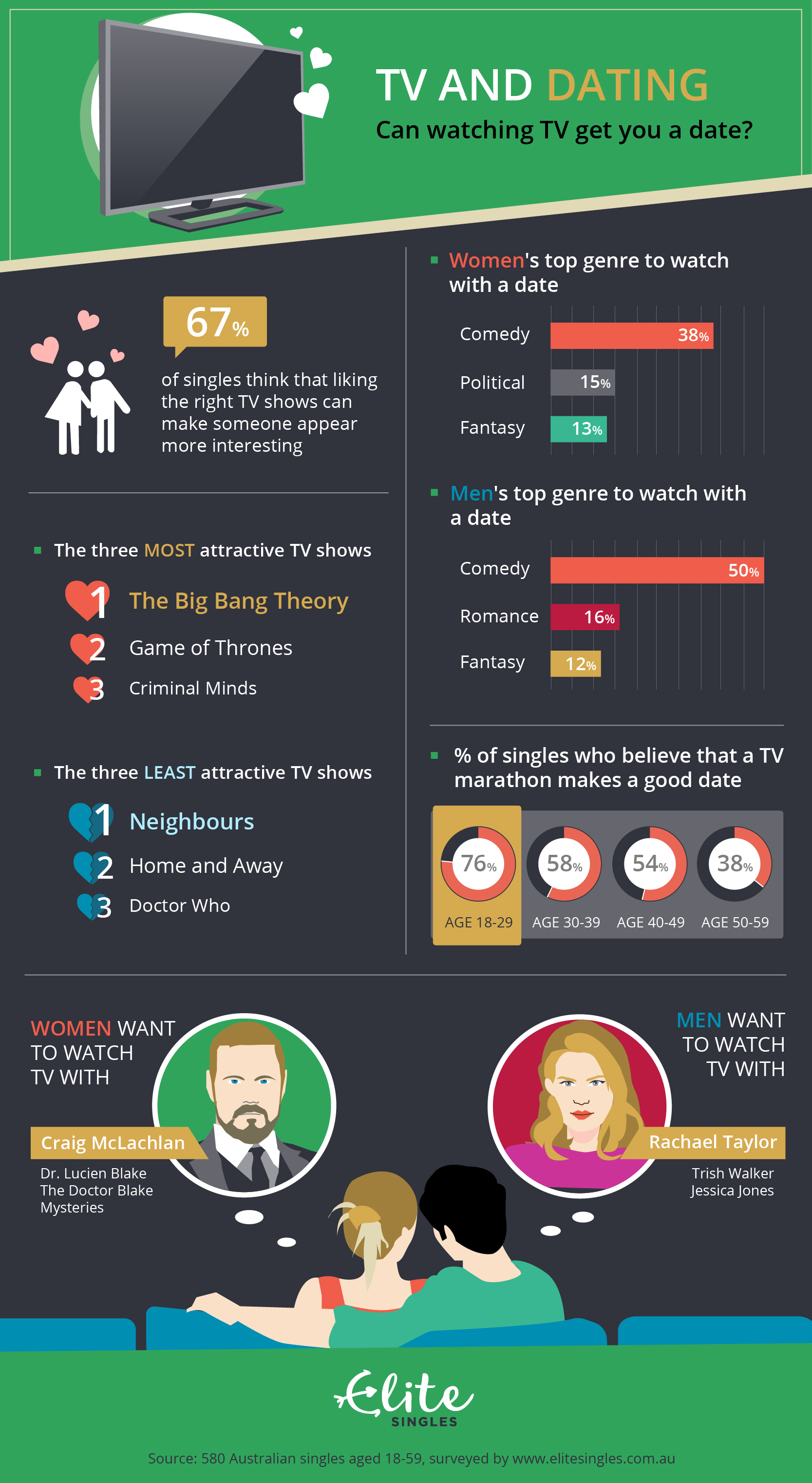 Who wants to have a binge watching TV date anyway?
It would also seem that popular culture is right about the effect of TV on romantic nights in: more than half of Australian singles enthusiastically embrace the idea of a TV date night. Of course, the overall eagerness for a binge watching session hinges on age, and it's 18-29 year olds who are the most in favour (76% believe that starting a new box set together is a dreamy way to spend an evening). 58% of 30-39 years olds agree, along with 54% of those aged 40-49. Nevertheless, a mere 38% of respondents aged 50-59 thought a tv-a-thon was an appealing idea.
However, before you and your partner cuddle up on the couch for your TV date, you have to decide what show to watch. The safe choice is a comedy: 50% of men and 38% of women think that this is the genre best suited to a night in front of the box. After that, things get trickier: men's next favourite genre is romance (16%), followed by fantasy (12%), while women prefer to temper their comedy with something political (15%) and fantasy (13%). We can only hope that someday soon we'll see a show about wise-cracking, dragon riding, international spies who fall in love while robbing a bank and everyone will be happy.
READ MORE: Our 'second date' survey uncovered some more dating differences between men and women. Find them here.
Netflix and chill: the celebrity edition
Binge watching TV with your one and only might be romantic but there's always a chance that thier mind is elsewhere! Indeed, the survey also revealed the celebrities that Australians most want to cuddle up on the couch with (or even 'Netflix and chill' with).
For men it's Rachael Taylor (the striking Trish Walker in Jessica Jones), then Sofia Vergara (Gloria Delgado-Pritchett, Modern Family) and Zooey Deschanel (Jess Day, New Girl).
Meanwhile, women's most coveted celebrity is Craig McLachlan, aka the broodingly handsome Dr. Lucien Blake (The Doctor Blake Mysteries), followed by Alex O'Loughlin (Steve McGarret, Hawaii Five-O) and Kit Harrington (Jon Snow, Game of Thrones).
READ MORE: Our 'Funniest Singles' survey revealed which Aussie cities like to laugh the most – discover the results here!
EliteSingles editorial, June 2016
If you have any questions for the editorial team, or if you would like to contact our PR representitive about this survey, then please leave us a message below or write to editorial@elitesingles.com.au
Sources:
All statistics taken from the EliteSingles 'Television and Dating' survey. Partcipants: 580 Australian singles aged 18-59.