Writing an online dating profile is trickier than you may think. How do you be confident without showing off? How do you express your personality but still keep an air of mystery? And how do you taut your attractive features without appearing too… forward?
To make the process easier for you, we've talked to real EliteSingles members about the sort of things that catch their eye when looking for a partner online – here's a few tips to keep you on track.
1. Have the right attitude
DO: Complete your profile
An upbeat attitude is essential if you want to win people over, so sit down to write your profile when you are in a positive frame of mind. This means fully completing your profile, leaving no empty spaces or one-worded answers; you will find that people are drawn to your enthusiasm. EliteSingles Partner Psychologist, Relationship Coach Sam Owen, explains that people can easily detect negativity online, ''you will transfer your negativity to [others] and then they'll associate you with that negativity, subconsciously and perhaps consciously. This will result in them avoiding you, even if they don't consciously recognise why they are.''1
DON'T: Use sexual innuendo
Turn offs differ around the world; the most despised trait in the UK was poor spelling, and Kiwis hated impoliteness. As for Australians, we are no fans of innuendo – 24% of our Australian members voted it the biggest profile no-no, followed by negativity (21%), insufficient description (20%), spelling or grammatical errors (17%), narcissism (10%) and clichés (8%).

2. Say cheese
Don't be shy! Photos are an incredibly important part of online dating.
DO: Upload a profile photo
52% of Australian respondents said they would refuse to open a profile devoid of photos. This isn't necessarily superficial – it's simply human nature to want to know who you are speaking to – 'to put a face to a name', so to speak. This means that, if you choose anonymity, you are alienating nearly half of your potential suitors! Owen agrees, 'we build up an idea of a person's personality by looking at their photo.'2
DON'T: Fall into the profile photo traps!
Simply uploading a picture isn't enough; you need to choose your photo wisely. Australians surveyed told us there were a few photo features that went down especially badly; wearing sunglasses was voted as the biggest no-no (23%), followed by overly revealing clothes (22%), poorly photoshopped photos (18%) and too many group pictures (15%). The much-maligned selfie was not as hated as its reputation would suggest – just 5% of our members said it made for the most offensive picture.
READ MORE: Learn how to take the perfect profile picture with these expert tips.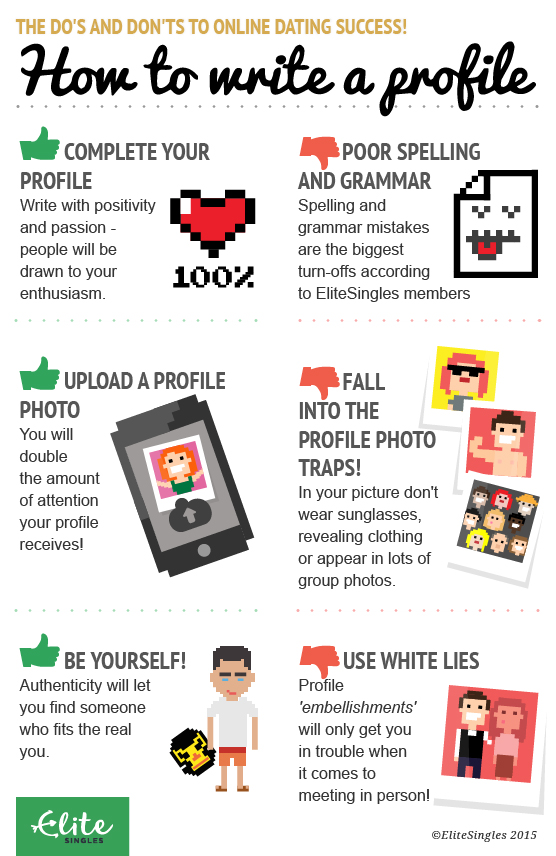 3. Strive for authenticity
The whole point of online dating is to find someone who fits the real you, so it's important to be yourself when you go to write a profile.
DO: Be yourself!
Unsurprisingly, 85% of our Australian respondents said they would disapprove if someone turned up to a date looking different from their profile picture. 66% of Aussies wouldn't even consider a relationship with someone who embellished themselves. This includes using a photo of you from a few years ago – resist the temptation and instead choose a recent snap (within the past year)!
DON'T: Tell white lies
While it can be tempting to embellish a profile with a few well-meant white lies, you'll only be doing yourself a disservice. After all, when you finally get to meet the person you've been communicating with, it will likely end in disappointment. Whatsmore, if you opt for untruths you won't give anyone the chance to fall in love with the real you. In other words: honesty is the best policy.
Now that you know how to write a profile, give yourself the best chance at finding a compatible partner and register with EliteSingles today!
Sources:
All percentages based on a survey of 1,000 EliteSingles members from Australia, New Zealand, the United Kingdom, Ireland, Canada and South Africa. Statistics may not equal 100% due to rounding and multiple choice answers.
1 Interview with Sam Owen for No 1. Magazine, November 2014
2 EliteSingles interview with Sam Owen, October 2014.