We've all seen the films where colleagues take it one step too far and casually fall upon a nearby photocopier. But does this actually happen in real life? We surveyed our members to find out the truth about sex in the workplace.
Do people have sex at work?
Although both genders admitted to having sexual fantasies about a colleague and have previously flirted, men are clearly more willing to follow through: 50% of men said they had had sex at work, compared to just 24% of women.
Where in the office appeals for sex?
When asked about most tempting places for workplace sex, gender differences arose again. The photocopier seemed far more attractive to men (19%) than women (3%), as did the kitchen (again 19% and 3% respectively).
READ MORE: Looking for love – what makes you attracitve?
Overwhelming preference was shown for the security of the storage room, a personal office space or a conference room, with men voting 35%, 40% and 30% and women voting 20%, 29% and 32% respectively.
But of those that have done the deed, reviews fall short of inspiring; 80% of women and 55% of men said they would never do it again.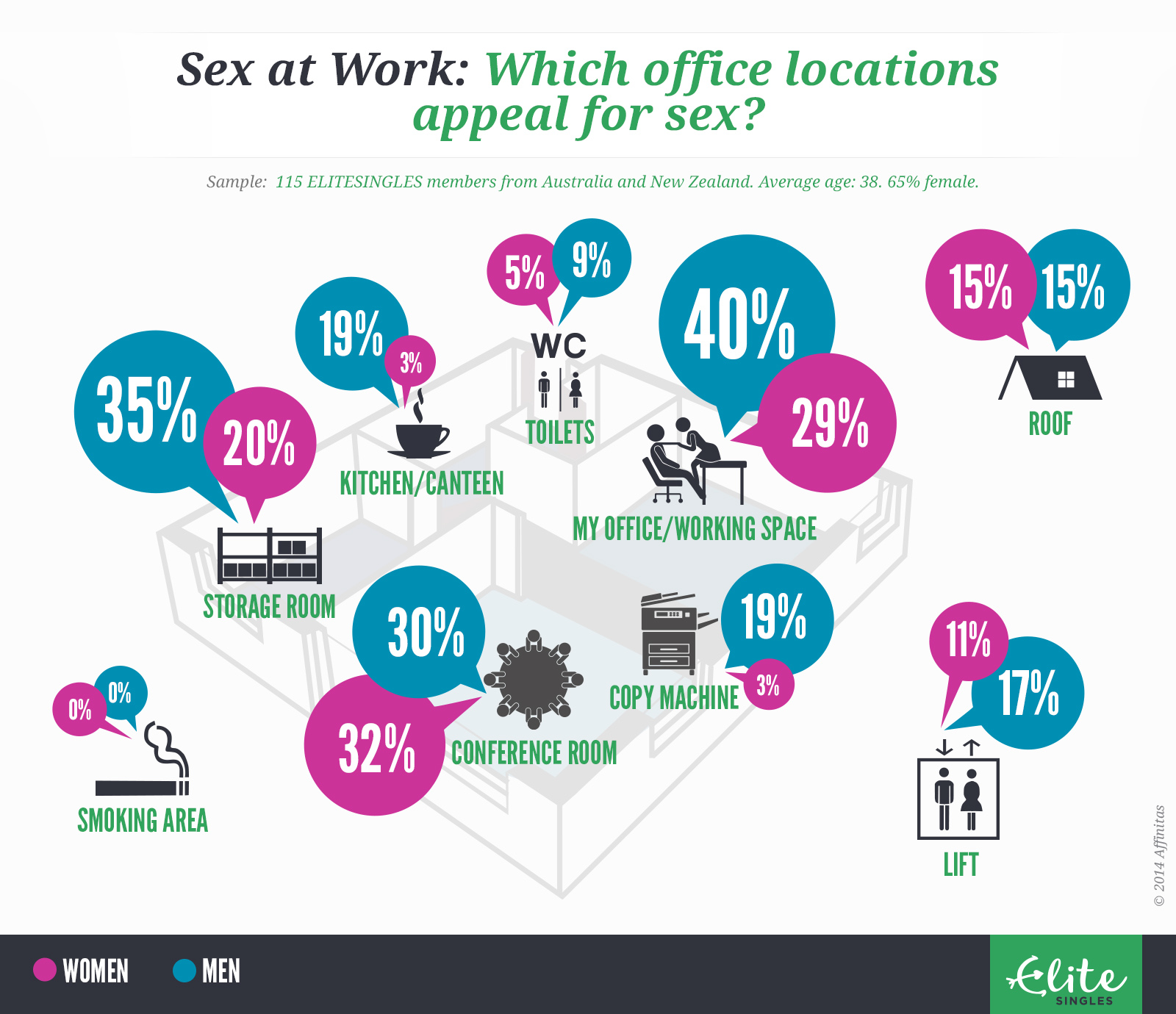 Consequences if caught
According to the study, two-thirds of workers habitually flirt with colleagues, and 55% admitting having sexually fantasised about a colleague – yet just a third admitted to previously having sex at work. Looking to the global results of a similar study, it seems the the risk of being fired or upsetting the office atmosphere surely explains this; Australia's employees are evidently more about concerned about the risks (or subsequent embarrassment) to let their flirting translate into reality.
Does sex at work spoil a relationship?
Perhaps the proof is in the pudding; perhaps romance among colleagues is often not the best idea. A quarter of survey respondents said they would be worried about their relationship being spoiled, with 19% fearing the office gossip surrounding the relationship and 13% indicating concern over putting their career on the line. For Australian employees looking for professional and personal stability, perhaps keeping romance and work separate is the best idea!
Ready to start meeting eligible singles? Register with EliteSingles today to expand your social network.
If you have any questions, please leave a comment below or write to us at [email protected]. You may also refer to our help pages if you have any membership queries.
Sources:
Cacioppo, J.T., Cacioppo, S., Gonzaga, G.C., Ogburn, E.L., and Vander Weele, T.J. (2013). 'Marital satisfaction and break-ups differ across on-line and off-line meeting venues'
These results were taken from an online survey with 191 participants. Average age: 44. 64% female.
Sourced from anonymous data